Sell with the best in Silicon Valley
We will help you negotiate and secure the best possible price and terms for you. If you don't find any home in your price range, we at Heng Seroff Real Estate Group suggest that it's reasonable to look at homes that are over your maximum price range.
At our company, we possess the necessary tools and expertise to aid you in successfully navigating the process of selling one of the most significant transactions of your life. Our team is well-versed in the intricacies of real estate sales, and we understand the unique challenges that come with such an important decision. Whether you are a first-time seller or an experienced investor, we are dedicated to providing you with the support and guidance you need to make informed decisions and achieve your goals. With our expertise, knowledge and commitment to your success, we are confident that we can help you navigate the selling process with ease and achieve the best outcome possible.
Professional Multimedia
High-End Photography
Heng Seroff Group listings are photographed professionally by local photographers who specialize in real estate photography. The quality of the photos of the property appear in all other marketing materials and thus significantly impacts the presentation of the home to interested buyers.
Professionally Filmed Videos
Similarly, the quality of the video of the property is of vital importance. Videos need to engage prospective buyers emotionally in order for them to seriously consider the home. Heng Seroff Group videos are professionally produced and with narration are able to call attention to the most desirable features of the home to increase the number of interested buyers. They also feature information about the local community, including schools and parks, so that people understand the benefits of living at your home. This all helps your property stand out, especially to local buyers who are too busy to view the home a second time or international buyers that are out of the area. Often, they have to make a quick decision on whether to make an offer on your property and the video can be critical.
3D Virtual Tours and
2D Floorplans
Due to the wide variety of home architectural styles, eras of construction, and requirements of prospective buyers, it is important to ensure that after visiting a property they retain a clear understanding of the layout of the home. Buyers may spend a short amount of time at a property during their first visit, so remembering the exact floorplan may be difficult. To assist buyers and ensure they retain interest in your home, they have a full 3D virtual tour (similar to Google's innovative Street View) and a 2D floorplan created so they can feel confident the floorplan is a good fit for their needs.
A full-service experience.
Home Preparation
Heng Seroff Team's proprietary Property Selling System was developed and has evolved over the past 25+ years to provide our clients with a consistent and proven method to:
Project Management of Improvements
Kim, Alex, and their team will visit your home and make recommendations on potential improvements to ensure a quick sale at a high price. They will recommend those improvements that are likely to give you at least three times return on investment. In addition, based on their extensive experience working with both sellers and buyers, they will provide design advice based on what is most likely to attract buyers in the market.
Pre-Inspection for Red Flags
Buyers in Silicon Valley are highly educated and detail-oriented. They will delve into the disclosures to determine the condition of the home. It is important to take care of as many issues that are likely to be found prior to being located and noted by an inspector. As one of the free services, Kim and Alex will complete an inspection of the property to locate as many of these issues as possible so they can be addressed.
High-End Staging
The Heng Seroff Group includes staging for all listings to ensure your home is shown in the best way possible to appeal to the most number of buyers. They work with the best stagers in Silicon Valley to showcase your home in the best light.
Preferred Pricing from Recommended Vendors
Through the multitude of transactions managed by Kim and Alex, the Heng Seroff Group has a carefully curated list of recommended vendors. They not only do high quality work but also offer our clients low prices and will get the job completed quickly. The Heng Seroff Group does not gain anything from you working with their recommended vendors, except happy clients.
Check your home value now
How to sell like a pro!
If you're looking to sell your home, check out these 11 tips on how you can get the best possible price for your home in your area.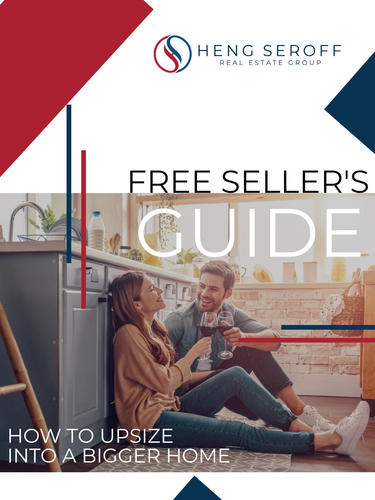 How to upsize into a bigger home
Free Seller's Guide
Comprehensive Real Estate
Seller's Guide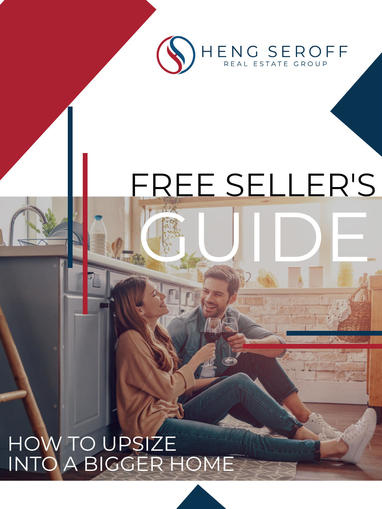 How to upsize into a bigger home
Free Seller's Guide
Comprehensive Real Estate
Seller's Guide
A few of our amazing clients.

"Kim and Alex are fantastic, professional with extensive expertise and they are also such a pleasure to work with. They helped my elderly parents bought a house in San Jose to be close to us, then hel
…
Read More
ped sell their house in San Leandro. They came prepared with great suggestions on how to improve and market the house because they knew what the buyers were looking for. Kim and Alex were so patient and flexible working with my parents' limited budget and put their mind at ease. They took care of selecting contractors, did all the schedulibg and supervised contractors' work. Alex even called numerous charities and arranged help to take away some of the furnitures my parents no longer needed. It took less than 2 weeks from when they moved out to everything ready to put on market, and sold within a week of getting on market at a much higher price than my parents had imagined. Many of their neighbors/friends found it eye-opening and impressed by what Alex and Kim did. The closing process was also made easy with their patient explanation, frequent communications and attention to details. Alex even provided all the documents to help my parents to apply for Prop 19. My elderly parents was so pleased that they worked with Kim and Alex, impressed not only by their deep expertise in housing market, their efficient execution, but their impeccable customer service. They made an otherwise daunting process seem easy. If anyone is considering buying or selling a house, could not be in better hands with Kim and Alex!"
Read Less

"After extensive interviews, we chose Heng-Seroff Real Estate Group to sell our Palo Alto home of 30 years. The team of Kim Heng and Alex Seroff did an amazing job. Their oversight and management of
…
Read More
the sales process resulted in multiple offers after the first weekend. Alex and Kim applied their expertise to help us navigate through the bids and they negotiated a strong selling price in a marketplace challenged by local tech company layoffs and high interest rates. Most importantly, Heng-Seroff secured a solid offer substantially higher than anticipated! The Heng-Seroff team was responsive to any and all questions, concerns and issues throughout and the team was always highly accessible (via phone, email, text, WhatsApp, and in-person). Documents that required signatures were explained clearly, and questions promptly addressed. Alex and Kim facilitated putting the house on market in a very short timeframe to capture the sweet spot in market timing (we entered the market very late in the home-selling season). They oversaw contractor hiring, ensuring multiple bids on the key projects, and they monitored progress to ensure work was completed on schedule. The recommended improvements were sensible and the rationale for each was clearly explained. They managed and oversaw staging and all facets of the sale (home improvement projects came in below estimate!). All situations are unique, and ours was complicated by a myriad of factors (divorce, international travel requiring consulate visits for notarization, etc.). All issues were handled diplomatically and professionally. I highly recommend Kim Heng and Alex Seroff with Heng-Seroff Real Estate Group and would work with them again in a heartbeat."
Read Less

"Working with Alex and his team for the first time has been an exceptional experience. Their professionalism and prompt responsiveness to all my inquiries, even amidst our busy schedules, were truly im
…
Read More
pressive. Thanks to their expertise, the property was sold in less than two weeks with multiple offers, achieving the best possible price. I wholeheartedly recommend Alex and his team to all my clients."
Read Less

"Kim and Alex are so knowledgeable, personable, and responsive. Their guidance made the first-time home buying process much less intimidating. Highly recommend!"

"Alex and Kim are so wonderful to work with. Their sense of the market trend was on point. A signal from them was all we need to pull the trigger and put it in the market. I was so amazed by the timeli
…
Read More
ne that they give me, coupled with the impressive marketing. Results were so awesome. If I'll do it again, I will never hesitate to give Alex and Kim a call. True professionals. Thank you very much Kim and Alex. I would give these two guys 10 stars for a job well done!!!"
Read Less

"I recently had the pleasure of working with Kim to shop for my first house. Throughout the entire process, Kim was always punctual, professional, and also very personable. She was incredibly patient i
…
Read More
n answering my questions and addressing potential concerns. Kim went above and beyond to help me find my dream home. Her knowledge of the real estate market, her extensive network of intel/information and support, and her expertise in related fields were invaluable in guiding me through the touring and bidding process. As a seasoned negotiator, Kim worked tirelessly to ensure that we got the best deal possible. She was always available when I needed her and made sure that everything was taken care of smoothly and efficiently. Her skillful negotiation and timely communication were paramount to our success in getting a perfect house with a very reasonable price in a rising real estate market. Overall, I highly recommend Kim to anyone in need of a real estate agent. Her professionalism, expertise, and dedication to her clients truly set her apart from the rest."
Read Less

"Kim Heng and Alex Seroff were outstanding to work with during the sale of our home in Palo Alto! They took care of so many of the smallest details and made getting the property ready for sale really e
…
Read More
asy for us, even as they did all the heavy lifting. They were present with us for all the document signings, and they really went above and beyond at all steps of the transaction. The home was well marketed, and in the end the transaction was smooth and seamless. We would definitely utilize their services again for any real estate transactions!"
Read Less

"Superb service, great advice and rapid responses when needed. Also great service after the sale."

"If your are buying a home, this Realtor is a good choice.  If you are selling, my experience is that there is a constant change in staff at their open houses.  The staff is not knowledgable about the
…
Read More
house, they gave out the wrong selling price to potential buyers, the staff doesn't put out many signs indicating there is an open house.  For two weekends, there were none.   Other agents put a "Open Sat/Sun" sign or similar on top of the "For Sale" sign when there will be an open house, not Heng Seroff in my experience.  Given the outstanding performance of the previous firm where Kim Heng and Alex Seroff cut their teeth, you would think they know better.   I realize that it is hard to find staff, so they may not know whether they can even hold an open house.  So buying their houses is good because you will have less competition, selling through them will be lacking in marketing.  The house did eventually sell, I think largely because it was the least expensive house on sale in the city at that time."
Read Less

"I still look around my house and feel gratitude for what Alex and his thoroughness helped us achieve. We live in what I would consider paradise. Not only that, but Alex still sends us holiday cards ev
…
Read More
ery year. It's not because he wants more business, either. He's just a genuinely kind (and brilliant) person."
Read Less

"The Heng Seroff Group is a top notch real estate agency.  Alex Seroff was my agent, and I was very favorably impressed by our initial phone call, but my esteem grew by leaps and bounds at every step o
…
Read More
f the selling process. Alex was retained to sell my mother's home just before Santa Clara county went on Covid-19 lockdown.  Yet Alex found ways to continue renovations, keep me apprised of progress, attend to every little detail, remain calm throughout (despite the unusual, stressful circumstances), and assuage my market concerns with realistic assessments and solutions. He is also just so easy to work with being kind, intelligent, and extremely articulate. Heng Seroff impressed me as an agency by holding weekly online meetings discussing market data that clients could participate in, and by producing such thorough, attractive marketing plans and packages. In the end, a solid offer was submitted the week the house went on the market and closing went as smooth as silk. If you're looking for a highly professional, service-oriented agency, make sure you call Heng Seroff and ask for Alex. Seriously. I couldn't be more pleased."
Read Less

"Kim and Alex is a great team. Kim is my agent buying a house, she understand what I'm looking for precisely, then with her great knowledge, experience and connections, she find me the right house, go
…
Read More
above and beyond, she help negotiate a good deal, got me the house even though I'm not the highest offer. I recommend her to anyone who want to buy the right house on the market, her service is impeccable."
Read Less

"Great experience having Kim and Alex helping me find my dream house in Los Altos Hills. They are an awesome team. I'm very happy with their support and expertise in the entire process."

"Extremely satisfied with the house purchase experience with Kim Heng.a. Extensive and in-depth knowledge of bay area housing market.b. Exceptional diligence and patience during the entire searching, i
…
Read More
nvestigation, negotiation, closing process.c. Impressive bidding strategy to get us the house with an not-the-highest offer."
Read Less

"We have just purchased our first house with Alex Seroff as our buyer's agent. He designed a bidding strategy for us and executed so that our very first offer was accepted even though it wasn't the hig
…
Read More
hest bid. He pays a lot of attention to the details important to the seller's agent so that the offer stands out even when not the highest. He definitely saved our money and helped us get a better home than we expected. In addition to that, Alex is always available, communicative, transparent. He explains everything and goes over the details until we understand every single part of the transaction. He stays in touch with the seller's agent and the loan team and gives us all the context to help us make informed decisions. I couldn't have been happier with Alex. I learned about Alex from my friend - Alex handled selling my friend's home and that went great. For us, Alex definitely went far beyond our expectations. Thank you so much Alex!"
Read Less

"I highly recommend choosing Kim if you are planning to buy a home at bay area. Kim is very professional and reliable agency I ever worked with."

"I highly recommend working with Kim Heng. She and her partner, Kevin Chiao, did an exceptional job selling my condo in Palo Alto. Not only were they a complete joy to work with, they went above and be
…
Read More
yond to help me get my place ready to show. Their marketing and pricing strategies were quite powerful -- over 150 visitors during open house weekend, followed by more than 20 offers and closing for 37% more than my wildest dreams. It my pleasure to give them my highest recommendation."
Read Less

"I have worked with many real estate agents in the bay area and my experience with Kim and her team was exceptional! Worked with Kim and the Deleon team for multiple properties. She is very detailed or
…
Read More
ientated from the beginning to the end. She gave us well prepared market analysis for the bay area real estates before we decided where to buy our new home. As an expert of the bay area real estates, she has all the information you need to make a good decision. She was able to answer all questions we had during house tours and gave only honest and valuable suggestions. She also goes above and beyond to help negotiate the price, looking for finance options and follow up with third parties to ensure a smooth close. We never had to worry about any steps during the process. Her honesty, efficiency and professionalism are the reasons that we came back to her for multiple real estate purchases. Highly recommended!"
Read Less